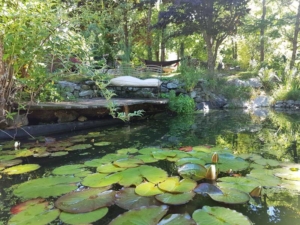 The Intensive-Holiday in Saint Martin Vésubie will take from
Tuesday, May 9th – Sunday, May 14th 2023
in the lovely place Moonlight Chalet
The language will be English! (French translation in particular cases)
Saint Martin Vésubie is located in the South-East of France, approximately one hour north of Nice. Being situated in the French Alps, it is surrounded by a wonderful landscape of mountains and forests. The Moonlight Chalet offers a small numbers of Bungalows which can be shared or can be used a single as well. The prices for participants are 120 € per night per Bungalow (incl. breakfast) for two people. A bungalow used as a single costs 100€ per night (incl. breakfast). Besides that there are all kinds of possibilities for accomodation in the village – from hotels to camping sites. The Talks take place at the Moonlight Chalet. There is also a kitchen for use.
There will be two to three talks with Andreas per day. The time in between is for free use and can be used for hiking, walks and/or recreation. Besides that there will be more time to talk to Andreas.
Suggested fee for the talks: 300 €
The accomodation has to be booked separately.
For further information about Saint Martin Vésubie, accomodation and meals either click here for English / French or please feel free to contact
Andreas via
onenesstalks(at)hotmail(dot)com
+49-(0)176-4135 8997
or
Benoît via
straussbenoit(at)gmail(dot)com
+33-6-9564 6655
This post is also available in: German