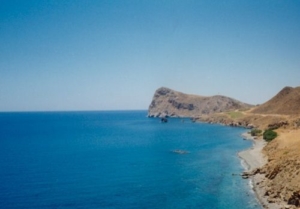 The Holiday-Intensive with Andreas in Lentas on Crete takes place from
Saturday, Sept. 2nd – Saturday, Sept. 9th 2023 (
English week!

)

and
Sunday Sept. 10th – Sunday, Sept, 17th 2023 (
German week!

)

Lentas is a wonderful village at the south shore of Crete. The accomodation will be in studios/rooms and appartements which can be rented as single, double or shared rooms for three to four people. Lentas is situated at the shore, so swimming is possible.

During the intensive there will be two OnenessTalks with Andreas per day. The time in between is for free use. There will also be further time for conversations with Andreas. Probably there will be trips to the surroundings on one or two days.

Accomodation (for pictures click on the link below)

Single or two people studio: 40 € / 45 € p. night per room

You are also free to book the accomodation for yourself. Lentas is not big and the place where the talks are held can be reached from everywhere in Lentas within a few minutes footpath. The studios are pretty much the same in the size, but they differ from things like balcony and/or seaview. If you have special wishes for your accomodation – balcony, seaview – please say it. According to that the prices may vary. Another possibility is to just arrive in Lentas and look for your accomodation then. Usually you will find one.

Food is not included. Lentas offers many good Tavernas with good and affordable meals. Everybody is free, but there is the possibility to eat together.

Suggested fee for the Talks:

330 € / week

580 € / both weeks

The number of participants is limited. After paying a deposit of 70 €, the booking is confirmed. By cancellation within four weeks before the event, the deposit will not be reimbursed.

The flight is not included. In order to come to Lentas a taxi or a rented car is needed. We can help organize the transfer and for example help to get together several people to share a car. For information about this please contact Dirk: 0049 – (0)176 – 5312 1012.

Information + booking:
OnenessTalks(at)hotmail(dot)com or 0049 – (0)176 – 4135 8997.